CLICK HERE FOR
DEDICATION
VIDEO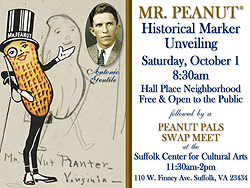 "Historical Marker Dedication Celebrates Antonio Gentile
and
100 Years of Mr. Peanut"
October 1, 2016
CLICK HERE
for Photos and More!



"Peanut Pals"
President's Message
posted September 23, 2016

"Suffolk Celebrates
100 Years of Mr. Peanut"
July 12, 2016
Click Here for Video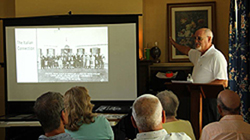 CLICK BELOW
1. "Mr. Peanut Legacy Lives On"
or
2. "More Than Mr. Peanut"
Suffolk Head Lines Video
"CLICK HERE"
Mr. Peanut's 100th Birthday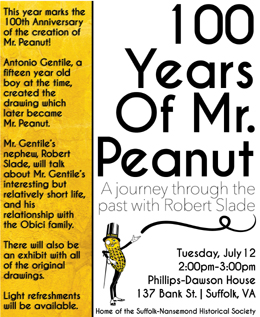 2016 - 100 years !
Mr. Peanut and
Antonio Gentile:
" A Trademark that defined a life! "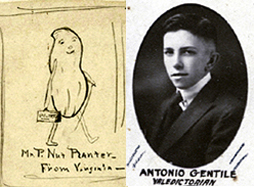 >>READ THE SMITHSONIAN<<
NATIONAL MUSEUM OF AMERICAN
HISTORY'S BLOG FOR THE STORY
MAKE SURE TO CLICK ON THE LINK AT THE END OF THE BLOG FOR A VERY INTERESTING VIDEO
>>WRAL TV'S VIDEO STORY<<
AND INTERVIEW ABOUT
ANTONIO GENTILE
Our thanks and appreciation to
Robert Slade, Peyton Lewis, Charlie Lewis (Antonio Gentile's nephews),
Jolyne Dalzell, the Smithsonian National Museum of American History,
WRAL-TV, Raleigh,NC,
The Suffolk News-Herald, and the
Wilkes Barre Times Leader for sharing this with Peanut Pals and our website visitors.
---


2016
Eastern Convention
October 15, 2016
Birdsboro, PA
"CLICK HERE
FOR PHOTOS!"


---
2017 EVENTS
National Convention
Las Vegas, Nevada
May 15-18, 2017
Midwest Convention
Creston, Iowa
August 11-12, 2017
Watch for more Information
---
"Mr. Peanut Back in Wilkes-Barre"
>>CLICK ON PHOTO<<
for more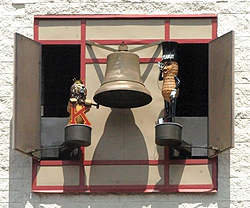 Our thanks to Peanut Pals'
Neil and Melinda Seidel's niece
Jennifer Everett for the information.
---
Trolley Card Signs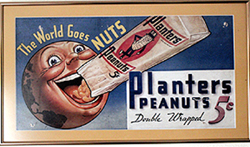 To see CLICK on the Trolley Sign (Password Required)
---

---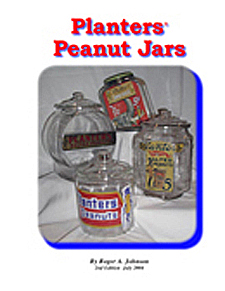 Visit the "Members Only" page
to view
1.Planters Peanut Jars,
2."Various Plastic Collectibles",
3."Various Plastic Collectibles-
Part II""
Presentation Information &
4. "Our Dedicated Peanut Pals"
---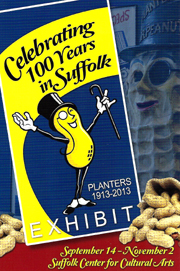 "A Century of Planters In Suffolk"
100 Years of
Planters Collectibles Exhibit
---
Like Peanut Pals on


NEW FOR THE HOLIDAYS FROM PLANTERS
Seen at Target & CVS
Thank you Peanut Pals Greg & Sue Puszkiewicz
Thank you Peanut Pal Tom Holbrook


Seen at Walmart
Thank you Peanut Pals Neil & Melinda Seidel
Thank you Peanut Pal Tom Holbrook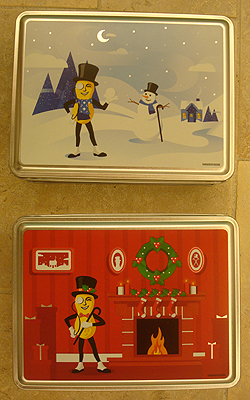 Seen at Lewis Drugs, South Dakota
Thank you Peanut Pal Colleen Nelson
Seen at Rite Aid
Thank you Peanut Pals Lyle & Ruth Augustine