PEANUT PALS!!


"CHECK OUT


THE PHOTOS AND

STORIES"


From the
2013 MIDWEST CONVENTION
Click on the Kenosha Sign
for the Convention Photos


They're Just Nuts
for Mr. Peanut


Click on the
Photo for the Story

AND LISTEN TO


THE CONVENTION RADIO INTERVIEW ON WRJN
Racine-Kenosha
Click here

and the


RADIO INTERVIEW
ON WMTJ Milwaukee
Click here

TO READ THE
KENOSHA NEWS
CONVENTION STORIES
Click on the dates below
April 19, 2013
April 25, 2013


Join Peanut Pals
YOU CAN NOW USE PayPal
CLICK HERE FOR DETAILS

Click on the


"Have You Seen? /
Did You Know?" Button
for some seldom seen, real
Planters/Mr. Peanut items!

Upcoming Events
2013 National Convention
Charleston, West Virginia
July 10-13, 2013
2013 Eastern Chapter Convention
Birdsboro, Pennsylvania
October 5, 2013
2014 Midwest Chapter Convention
Quincy, Illinois
Dates: April 4-5, 2014
2014 National Convention
Meriden, Connecticut
Dates: To be announced
2015 Midwest Chapter Convention
Ste. Genevieve, Missouri
Date: To Be Announced

THE MR. PEANUT APP IS NOW OUT
IN THE Apple itunes store for FREE!!
Our thanks to Peanut Pal Roger Johnson
for this Information

CLICK HERE FOR MORE INFORMATION

Peanut Pals........
You still have TIME
to sign Up NOW! ! !
2013 National Convention
July 10-13, 2013 in
Charleston, West Virginia

CLICK HERE FOR SCHEDULE
Charleston Peanut Shoppe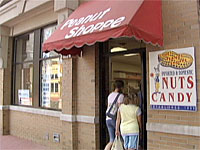 CLICK ON THE PHOTO
FOR THE VIDEO STORY


COMING
OCTOBER 19,2013
"A PEANUT PALS
SPECIAL EVENT"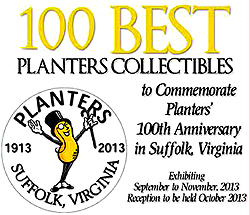 CLICK HERE
FOR INFORMATION
TO SEE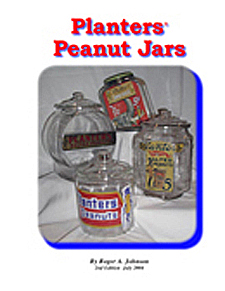 CLICK HERE
Peanut Pals. . . .
Visit the "Members Only" page
to view the
"Various Plastic Collectibles"
Presentation Information
from the
2010 National Convention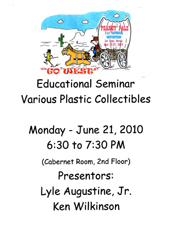 "WHEN YOU ARE HUNGRY"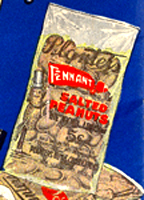 An old 16 mm movie extols the benefits of having PLANTERS PEANUTS around
to give you energy to work and play.
Mr. Peanut uses some 1930's movie technology to tell the story,
regrettably there is no sound.
CLICK ON THE BAG TO VIEW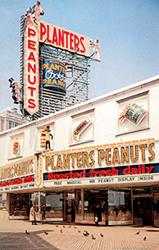 "UNDER THE BOARDWALK"
Click Here for an Atlantic City Slideshow
Atlantic City's Boardwalk was
the home of the largest
Planters Peanuts retail store.
Our thanks to Peanut Pal Bob Devlin
for the show.
OBICI HOUSE NEWS
CLICK HERE
For an August 29, 2012 news article
by Peanut Pal Jolyne Dalzell on her visit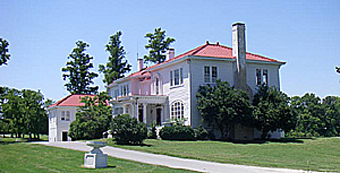 Click on Photo for the Obici House History
CLICK HERE FOR MAY, 2012 UPDATE
CLICK HERE FOR JANUARY,2012 UPDATE
CLICK HERE FOR JUNE 1, 2011 UPDATE

PEANUT PALS MEMBERS'
LANSING, MICHIGAN
PEANUT SHOP ON YOUTUBE
Click on the Photo
PEANUT PALS....
"Various Plastic Collectibles-
Part II"
Presentation Information
from the
2011 National Convention


is now on


the "Members Only" page