We Also Remember . . .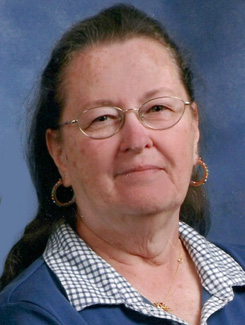 Charyll Holderbaum
A longtime member of
Peanut Pals, passed away suddenly March 31, 2015, who along with her husband Dale and daughter/grandaughter Karissa
particpated in many of our club's conventions. She will be fondly remembered and missed
by all of us who knew her.

OBITUARY, CLICK HERE
Peanut Pals members, Please Click Here for a message from Charyl's husband Dale regarding her passing.
---


PHOTOS & MORE
COMING
SOON



---


"Our Dedicated
Peanut Pals"
Those who serve and have served above and beyond just being Peanut Pals members!
Peanut Pals
CLICK HERE
To See The List!
Our thanks to Peanut Pals
Newsletter Editor Judy Buchner
for the list.


---


Peanut Pals
Trolley Card Signs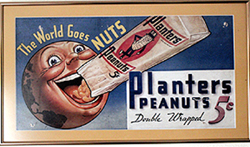 TO SEE
CLICK ON THE
TROLLEY SIGN


---
"NUTMOBILE
SIGHTING !"


CLICK ON THE NUTMOBILE

---
2016 - 100 years !
Mr. Peanut and
Antonio Gentile:
"A trademark that defined a life"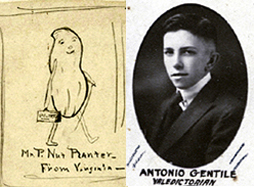 READ THE SMITHSONIAN NATIONAL MUSEUM OF AMERICAN HISTORY'S BLOG FOR THE STORY
MAKE SURE TO CLICK ON THE LINK AT THE END OF THE BLOG FOR A VERY INTERESTING VIDEO
---
WRAL TV'S VIDEO STORY AND INTERVIEW ABOUT
ANTONIO GENTILE
---
"MR. PEANUT GOES TO WASHINGTON"
---
"MR. PEANUT FINDS A NEW HOME!"
---
Our thanks and appreciation to
Robert Slade, Peyton Lewis, Charlie Lewis (Antonio Gentile's nephews), Jolyne Dalzell,
the Smithsonian National Museum
of American History, WRAL-TV, Raleigh,NC,
The Suffolk News-Herald, and the
Wilkes Barre Times Leader
for sharing this with Peanut Pals and our website visitors.
---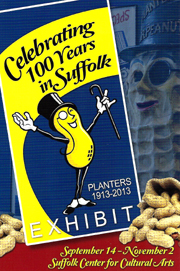 "A Century of Planters In Suffolk"
100 Years of
Planters Collectibles
Exhibit
" PEANUT PALS
SUFFOLK 100"
CONVENTION PHOTOS
[1] [2]
2015 Event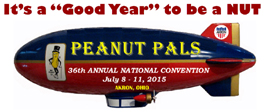 2015 NATIONAL
CONVENTION
Akron, Ohio - July 8-11, 2015

Registration / Hotel Information
Convention Schedule/
Driving Directions
---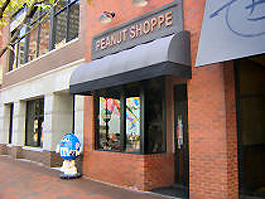 "The Peanut Shoppe of Akron:
80 years and still roasting"
"The Peanut Shoppe"
"Distinctly Downtown:
The Peanut Shoppe"
---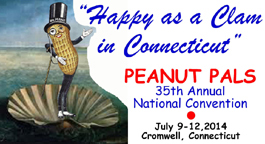 CONVENTION PHOTOS
(1) (2) (3) (4) (5)
---

Posted February 21, 2015
"Have You Seen
/Did You Know?"
for some seldom seen, real
Planters/Mr. Peanut items!


---

---
---
"Peanut Pals"
President's Message
posted February 12, 2015
---
PEANUT PALS /Members Only,
Password required to view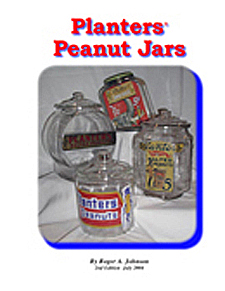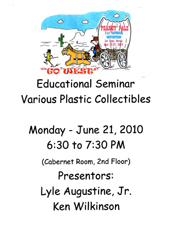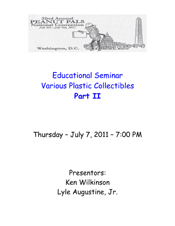 Visit the "Members Only" page
to view
Planters Peanut Jars,
"Various Plastic Collectibles" and
"Various Plastic Collectibles-Part II""
Presentation Information
---
THE MR. PEANUT APP IS
NOW OUT IN THE
Apple iTunes store for FREE!!
CLICK HERE FOR MORE INFORMATION

Our thanks to Peanut Pal
Roger Johnson for this Information
---
PEANUT PALS MEMBER'S
LANSING, MICHIGAN
PEANUT SHOP ON YOUTUBE

---
See More of the Old
Planters Peanut Stores
HERE
---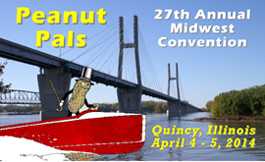 SEE THE KHGA-TV NEWS STORY VIDEO
Our thanks and appreciation to Meghan Townley of
KHQA-TV News in Quincy, Illinois
---
We Remember . . .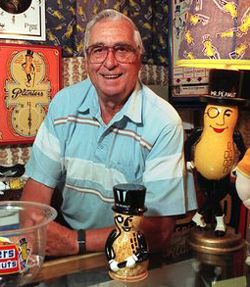 Floyd Melser
One of the Peanut Pals early
members from the Club's beginnings.
A retired owner of the
original Planters Peanuts store
in Lansing, Michigan
passed away March 16, 2015.
His friendship and his knowledge
will truly be missed by our members.
Lansing State Journal Story
CLICK HERE
---
"From a Beach
on Jamaica"
From Peanut Pal Steve Slater:
Saw the photos on the website and thought I'd share my story.
"I was in Jamaica for a week and found a woodcarver on the beach and asked if he could do a statue of Mr. Peanut? No problem and 3 days later, here's the finished product, added to my collection."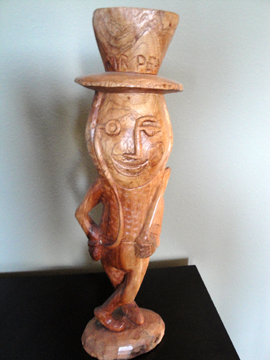 ---
From Our
Website Visitors
"Mr. Peanut??????"


"Click Somewhere
in this Frame!"
---
2014 Eastern Chapter
Convention Photos
---
"WHEN YOU ARE HUNGRY"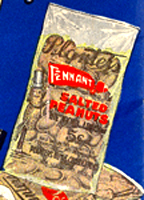 An old 16 mm movie extols the benefits
of having PLANTERS PEANUTS around
to give you energy to work and play.
Mr. Peanut uses some 1930's
movie technology to tell the story,
regrettably there is no sound.
---
OBICI HOUSE NEWS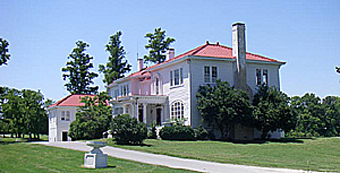 Obici House History


PHOTOS FROM OCTOBER, 2013
OF THE RESTORATION

A news article by Jolyne Dalzell
from August 29, 2012
on her visit to the house.
---
MAY, 2012 RESTORATION UPDATE

JANUARY,2012 RESTORATION UPDATE

JUNE 1, 2011 RESTORATION UPDATE
---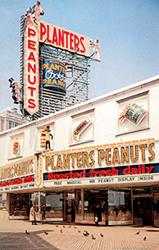 "UNDER THE BOARDWALK"
Atlantic City's Boardwalk was
the home of the largest
Planters Peanuts retail store.
Our thanks to Peanut Pal Bob Devlin
for the show.

---