CLICK HERE FOR
DEDICATION
VIDEO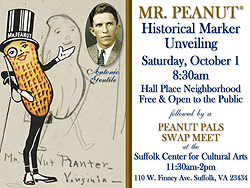 "Historical Marker Dedication Celebrates Antonio Gentile
and
100 Years of Mr. Peanut"
October 1, 2016
CLICK HERE
for Photos and More!

"Suffolk Celebrates
100 Years of Mr. Peanut"
July 12, 2016
Click Here for Video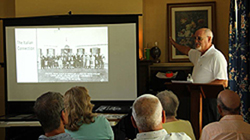 CLICK BELOW
1. "Mr. Peanut Legacy Lives On"
or
2. "More Than Mr. Peanut"
Suffolk Head Lines Video
"CLICK HERE"
Mr. Peanut's 100th Birthday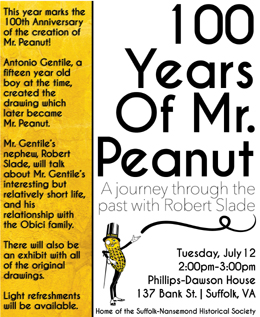 2016 - 100 years !
Mr. Peanut and
Antonio Gentile:
" A Trademark that defined a life! "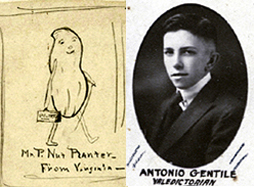 >>READ THE SMITHSONIAN<<
NATIONAL MUSEUM OF AMERICAN
HISTORY'S BLOG FOR THE STORY
MAKE SURE TO CLICK ON THE LINK AT THE END OF THE BLOG FOR A VERY INTERESTING VIDEO

>>WRAL TV'S VIDEO STORY<<
AND INTERVIEW ABOUT
ANTONIO GENTILE
>>"MR. PEANUT GOES TO<< WASHINGTON"
>>"MR. PEANUT FINDS<<
A NEW HOME!"

Our thanks and appreciation to
Robert Slade, Peyton Lewis, Charlie Lewis (Antonio Gentile's nephews),
Jolyne Dalzell, the Smithsonian National Museum of American History,
WRAL-TV, Raleigh,NC,
The Suffolk News-Herald, and the
Wilkes Barre Times Leader for sharing this with Peanut Pals and our website visitors.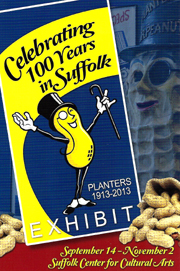 "A Century of Planters In Suffolk"
100 Years of
Planters Collectibles Exhibit
"You Have Arrived In Raleigh"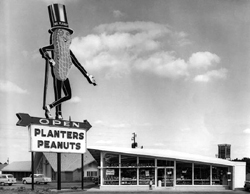 Click on Photo for More
Mr. Peanut
Back on the
Atlantic City Boardwalk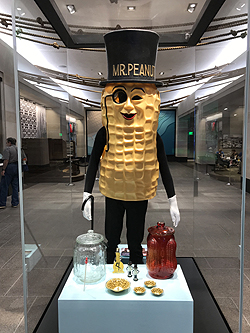 Thank you to Peanut Pal Tony
Scola for this news