COMIC STRIP -
From a 1936 Sunday comics section. Mr. Peanut's Nutty History was a recurring ad in the late 1930's, where Mr. Peanut would travel back in time and interact with various historical figure. The strip features the Greek orator Demosthenes. These strips were drawn by an uncredited Ham Fisher of Joe Palooka fame, a native of Wilkes-Barre, Pennsylvania and good friend of Amedeo Obici.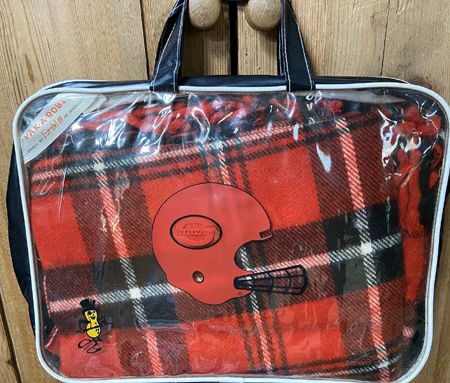 BLANKET #2 - 100% acrylic red tartan plaid stadium blanket, made by Faribault Woolen Mill Co. of Faribault, Minnesota. The only Mr. Peanut reference is the Planters Racing Team (NASCAR) running figure on the lower left of the carrying case, which date this to the early 1990's.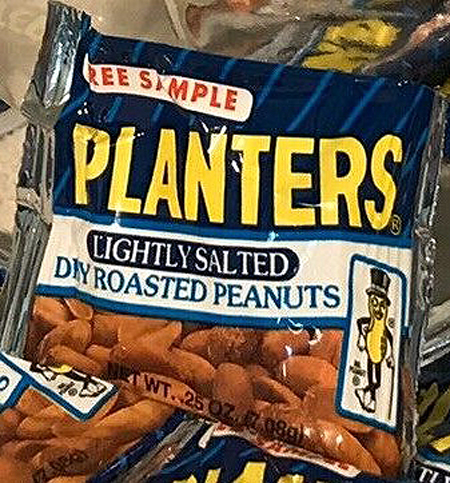 SAMPLE BAG #1 - Sample foil bag of Planters Dry Roasted Peanuts. Marked Standard Brands, probably 1970's.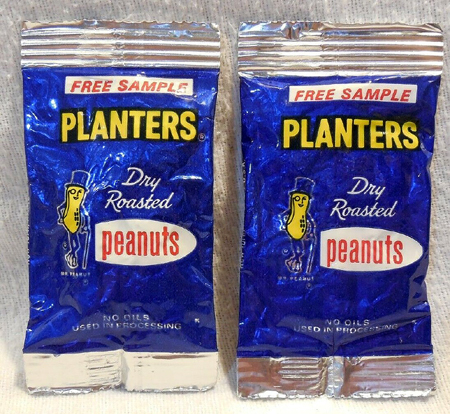 SAMPLE BAG #2 - Sample foil bag of Lightly Salted Dry Roasted Peanuts. Probably 1980's/1990's.
T-SHIRT #1 -
Yellow 50/50 blend T-shirt. The front says "Sweet Combination...Planters Nuts, Pure Honey and You!" with Mr. Peanut above. Possibly a promotional item for a honey roasted ad campaign? 1980's.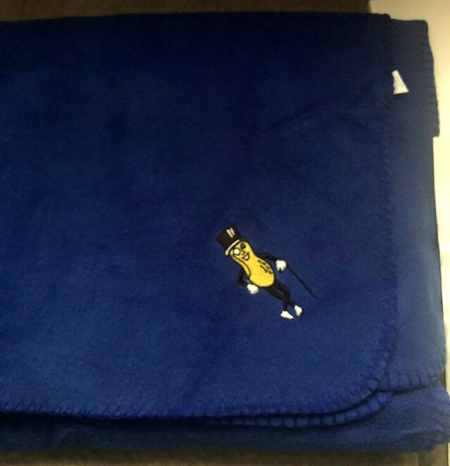 BLANKET #1 - Blue fleece throw blanket with an embroidered image of Mr. Peanut in the corner. Accompanying paperwork indicates that this was a gift to Planters employees for achieving 2002 Safety Goals.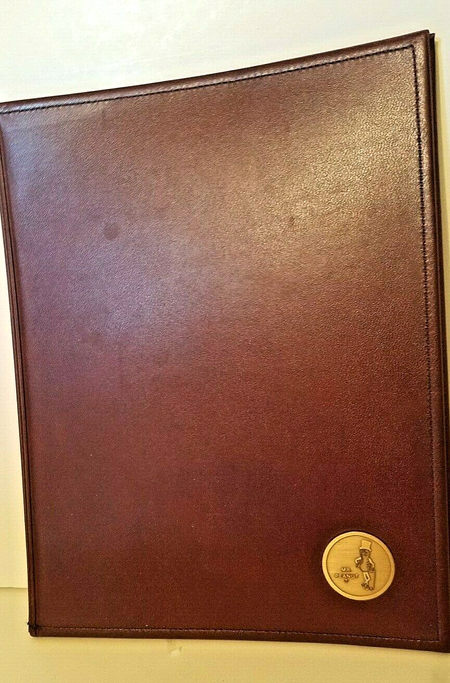 BINDER - A standard 9-1/2" x 12" vinyl binder but this has a metal Mr. Peanut embossed medallion on the lower right corner.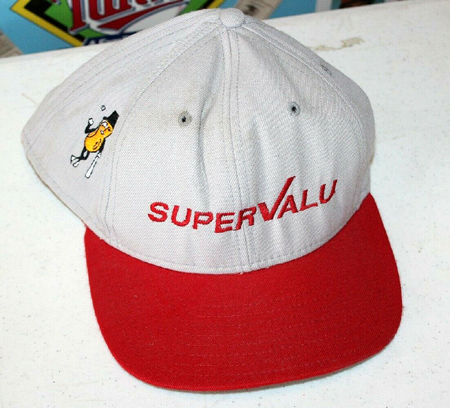 CAP - Baseball cap with Mr. Peanut embroidered on the right side leaning on a baseball bat and tossing a baseball. The front of the cap says Supervalu, which is a grocery wholesaler based in Eden Prairie, Minnesota. "The Future's in the Bag" is embroidered on the back of the cap. Made by DeLong Company. Presumably a cross promotion of Planters and Supervalu? The Planters image of Mr. Peanut with a bat is similar to a 1992 ad campaign.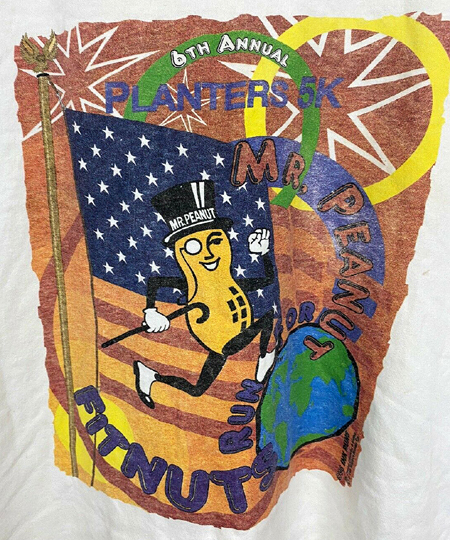 T-SHIRT #2 - White 100% cotton T-shirt, with a Munch-n-Go style logo of Mr. Peanut running. Accompanying text says "6th Annual Planters 5K Mr. Peanut Runs for Fitnuts". Presumably a Planters sponsored community race, or perhaps an employee event? 1990's.